Top 10 Best Navratri Places in Mumbai
Festivals and celebrations have always been an integral part of Indian culture. With Ganpati festivities almost over, people have already started gearing up from Navratri. The best part about the Navratri festival is the dandiya and garba dance that happens usually in the evening where people from all walks of life come together and dance their heart out. In literal words, Nav means Nine and ratri means Night. So, it is basically a celebration of nine nights. However, Navratri is not just about coming together and dancing to the beats of the music. It also symbolizes the nine forms of Goddess Durga and the beginning of the autumn season in India
So, we bring to you the top Ten Navratri destinations in Mumbai to make your Dandiya planning an easier task:
#1  Radiance Dandiya
With an aim to revive the dandiya fever in the city, Purple Blue Events and Ideas have come up with Radiance Dandiya, which not just offers the traditional festival feel but also provides you with luxury and comforts of a five star hotel in Mumbai at affordable prices. Situated inside a centrally air-conditioned hall with exciting prizes waiting to be given away daily, this is our pick for dandiya this year in Mumbai!There will be prizes given away with an overseas trip as well. Look around to spot some celebs at this event. DrumBeats, one of the best orchestra bands, will be present to enthral one and all with their music. So get ready to dance the night away.
Address: Hotel Sahara Star, Vile Parle
Price: Rs.500/800
#2 Kora Kendra Ground, Borivali West
Ground hosts some of the best dandiya and garba dance festival during Navratri where one can enjoy and have a really great time. While there is no major music group or band performing here, you will find many individual Navratri singers singing Gujarati Navratri songs that will leave you spellbound .The areas is over 1,00,000 sq ft and there will be a huge wooden stage for dancers as well. Keeping the tradition of Navratri alive, there will be a temple at the venue as well as a new social message on each day of the festival. Bollywood celebs also grace the event on a few days. What's more, there is a VIP section which is air-conditioned and an area for senior citizens and those who'd rather sit and watch others perform. There is also a grand prize of Rs 1 crore on the last day of the event so get ready and put your best foot forward.
Address: Kora Kendra Ground, RM Bhattad Rd, Haridas Nagar, Borivali (West), Mumbai.
Tickets: Rs 360 onwards or season pass for Rs 3060 and VIP season pass for Rs 5400
#3 Ruparel Navratri Utsav with Falguni Pathak
Witness the biggest garba event of the year with the dandiya queen herself- Falguni Pathak! Need we say any more about this? Falguni shall be performing for the second time in Borivali and we can't be more excited! You are pretty much guaranteed one of the best garba experiences in the city here.
Address: Late Shri Pramod Mahajan Sports Complex, Borivali
Price: Rs. 700/day, Rs.4000/season.
#4 Regency Dandiya Raas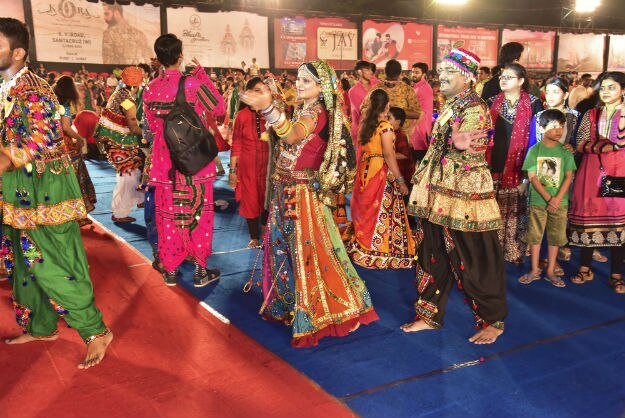 If you don't want to spend a bomb yet want to enjoy dandiya nights, head to Regency Dandiya Raas where they have flat rates for tickets. The event is only for the last three days of Navratri but promises to be a lot of fun. An orchestra will be present to keep your spirits high and there will be some of your favorite TV stars too. Angoori Bhabhi, Ishita, Ruhi, Naitik and Indian Idol singers will grace the event to cheer the audience. So pratise your moves and get ready for some fun.
Address: Regency Antilia, Near Century Rayon Club, Khemani Industry Area, Mumbai
Tickets: Rs 250.
#5 Pushpanjali Navratri
Supposedly, the biggest Navratri of the country, singer Falguni Pathak is known as 'the Dandiya Queen' and is famous for singing memorable Gujarati songs.
Address: Pushpanjali Grounds, Borivli (West)
Attraction: Falguni Pathak to perform for the first time in Borivi
Tickets: Daily passes- From Rs600 to Rs1,000
Season pass– Rs3,999
"As many as 20,000 to 25,000 people are expected every day for the event. Hundreds of foreigners have also booked their tickets online to witness the biggest Navratri,"
Santosh Singh, organiser of Shriya Events, LLP.
#6 Takeover Neon Dandiya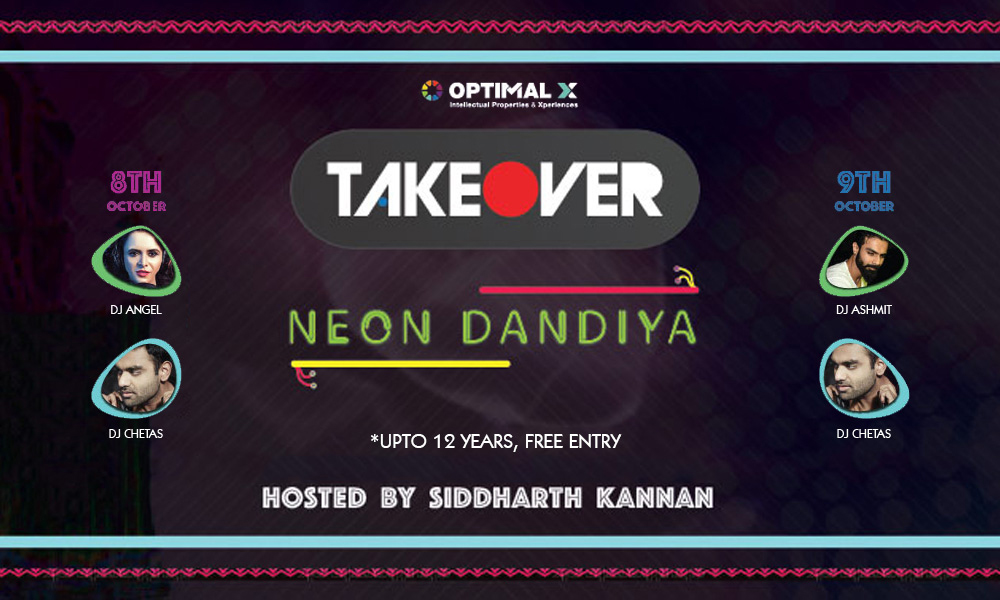 This dandiya party is pretty different than the rest and you will have artists of different genres getting together to create some magical music for you to dance on. Dress in bight neon colors to match the mood and energy of Navratri and dance to your heart's content at this two-day party. There will be a selfie booth where you can go clicking with your loved ones. Get your face painted and dance to DJ music with your friends and family. The event promises to be full of music, masti and madness. Are you game?
Address: Richardson and Crudas Mill, LBS Marg, Opposite Rmall, Mulund West, Mumbai
When: October 8-9, 6 pm onwards
Tickets: Rs 500 onwards.
#7 Rangilo Re
Here, you will get to witness a unique celebration of this 9-day festival with renowned singer Parthiv Gohil and other folk artists from Gujarat taking up the stage to keep you dancing every night. With Gujarati specialty food stalls and cultural activities like puppetry and Bhavai folk dance to keep you entertained, this is definitely the place you should head to.


Address: Nesco Center, Goregaon
Price: Rs.250/day, Rs.2000/season
#8 Alivekraft Meera's Navratri
Indipop duo Preeti-Pinky has been striking a chord with residents of Borivli for 18 years. They also sang a Bollywood song.
Address: Kutchi Grounds, Off Link Road, Borivli (West)
Attraction: Mela (Fun Fair) Themed Navratri, exhibition and rides to continue for the revellers even after 10 pm.
Price: Daily Passes- From Rs. 200 to Rs. 250
Season Pass– Rs800
"Preeti-Pinky have been performing continuously for 18 years in Borivli now. They are always focused on folk and tribal singing. We have a special 30-piece band which would leave garba enthusiasts spellbound," 
Chetan Gaur of Alivekraft Events.
#9 Dome Dandiya Nites
Dome Dandiya Nites give you a chance to dance to the fusion of traditional garba and Bollywood-style dandiya music with special contests, where winners are announced every day! This is one place where pure dance and enjoyment amalgamate inside the AC arena till midnight, every night.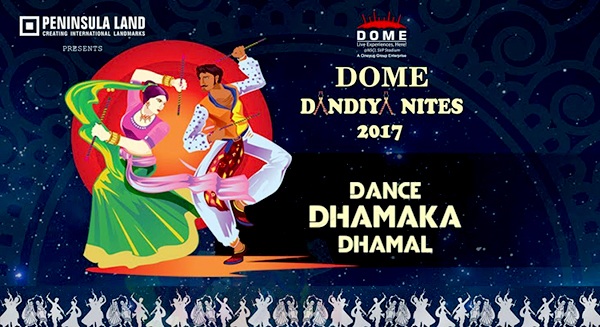 Address: NSCI Dome, Worli
Price: Rs.339/- onwards
#10 Aagman Sohala 2017
Navrang Navratri Utsav Mandal presents you with an opportunity to do garba like never before and enjoy the festival in full swing. Into its second year now, they are looking to make the event bigger and better so that you can be assured that you will not be disappointed with the garba here.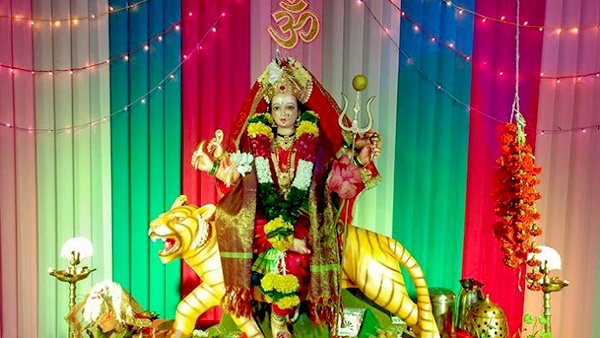 Address: Revengers Sports Club, Santacruz
Price: NA
So, what are you waiting for? Start dusting off your dandiyas and start brushing up on your garba steps so that you are prepared to enter the field and enjoy these 9 days to the fullest. If you come across any other amazing place to do garba, do let us know in the comments below!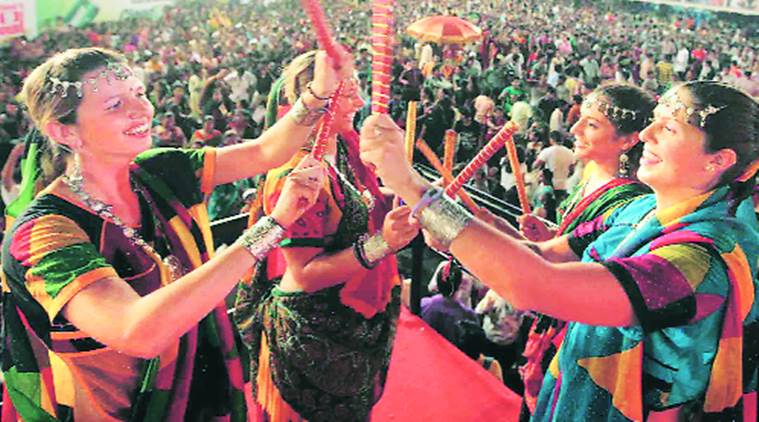 Comments
comments