12 Interesting Facts You Didn't Know About HAJI ALI DARGAH
One of the most popular landmarks of Mumbai, the Haji Ali Dargah at Worli is a place to which thousands flock every day. They cut across religious barriers. The Mumbai High Court, on Friday, August 26, ruled that women must be allowed entry into the inner sanctum of the shrine.We list some important facts about this complex which is a must visit if you are on a trip to Mumbai.
Haji ali Dargah is situated at the shore of Arabian sea in Mumbai covering total 500 yard of area in sea. Accessibility of Dargah is not possible during the day of Monsoon because of heavy high tide but you can visit haji ali in normal days. Only the way to reach haji is to use narrow path starting from road till haji ali Dargah in sea. Every day around 10-15k people visit haji ali Dargah and this number increase to 20k on Friday,Sunday. On special day like ramjan Eid and bakra eid the number of visitor to visit haji ali increases to 1-1.5 lakh. This is huge number of visitor, visiting any Dargah in Mumbai.
Basically this is a holly place of Muslims but open for all religion including ladies. On every Friday (juma day –Muslims prays day) many pir(saint) come and sing a devoted song to Pir Haji Ali Shah Bukhari known as Qawwali in front of dargah gate. Dargah is older than 600 year made in 14 centuries.
In 1949, there was a big storm in Mumbai and even every single building got damaged but there was no damage to the Daragh. There were waves of size of mountains everybody who is inside the Dargah was scared that they would drown away. But the waves were bowed down to the walls of dargah and people returned home safely without any damage to the property.
There is a dispute between the people of the Bhumata Brigade, the chief of the Trivti Desai and the Haji Ali Trust, to allow women to enter the Haji Ali Dargah in Mumbai. Dargah Management says that according to Sharia law, going to the graves of women is non-Islamic. Although, till 2011, women are entering Haji Ali Dargah, but since 2011, the entry of women in the dargah was banned. Know that there is a dispute about the entry on the Haji Ali Dargah, there are 12 special things about him.
#1
Haji Ali 's Dargah is a mosque and a dargah located on a small island near Worli coast of Mumbai. It was built in 1431 in memory of Sayyid Pir Haji Ali Shah Bukhari.
#2
This Dargah has special religious significance for Muslims and Hindu communities. It is also the important religious and tourist place of Mumbai.
#3
According to the Haji Ali Trust, Haji Ali had traveled to India from the Bukhara province of Uzbekistan visiting the whole world.
#4
Haji Ali's dargah is situated in the bay of Worli. This dargah is made on a small island at a distance of 400 meters from the road.
#5
A bridge has been made from main road to go to Haji Ali's Dargah. The height of this bridge is very low and it has sea on either side.
#6
Dargah can be reached only at the time of Lo Tide. In the rest of the time, the bridge remains submerged under water.
#7
Dargah is spread over an area of ​​4500 square meters of the island. The outer walls of the dargah and mosque are painted white.
#8
The identity of this dargah is 85 feet high tower.
#9
Entry of women in the dargah was banned.  Although, till 2011, women are entering Haji Ali Dargah
#10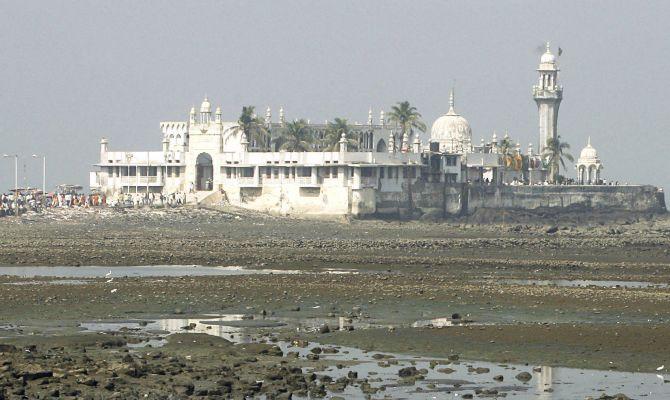 There is a radius of silver straps all around the mazar.
#11
There are many columns made of marble in the main chamber on which the artwork is painted on colored glass and the 99 names of Allah have also been carved.
#12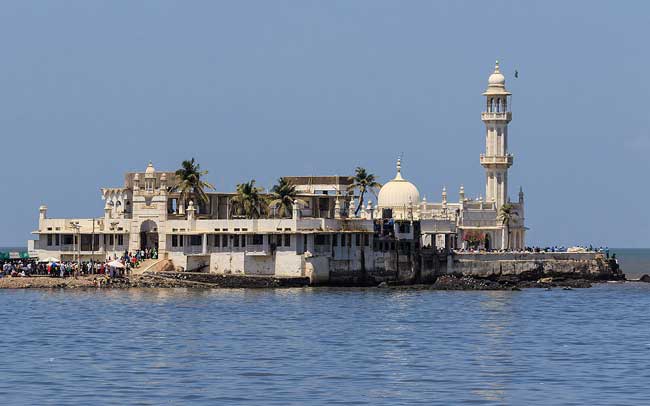 It is said that Haji Ali was from a very rich family, but during his visit to Mecca he had donated his entire wealth for good deeds. During his visit, he died. It is believed that his body was in a casket and he flown back into the sea to Mumbai. Here their dargah was built.
Comments
comments