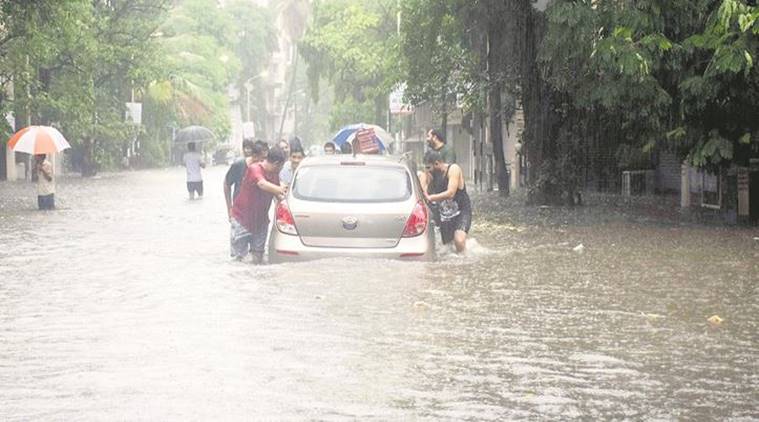 MUMBAI: Isolated heavy rains have been lashing Mumbai and its suburbs since last night.
Many parts of the city have been inundated following heavy downpour, throwing normal life out of gear. A total of 79 dewatering pumps are in operational of which 38 are in Mumbai city area while 26 in eastern suburbs and 15 in western suburbs. BMC has a total of 313 dewatering pumps placed at different localities across the city which are put into operation whenever there is water logging at a particular spot.
Rain recorded in the last one hour: (12 noon-1pm) in Dadar-11mm, Vikhroli -24 mm, Kurla -14 mm, Dindoshi-18 mm, Goregaon and Andheri -13 mm, BKC -11 mm and Bandra-10 mm.
While the Colaba observatory recorded 56.8 mm of rains, Santacruz recorded 12.8 mm from 11pm last night till 7am today morning.
Suburban railway services were also delayed in the morning and trains were running up to 20 minutes behind schedule, stranding daily office commuters especially on the Harbour and Central line.
On Tuesday, heavy rains caused major flooding in these areas. Nikhil Desai, a resident of Matunga, said, "Children here missed school on Tuesday as their school bus could not cross the flooded Dadar TT circle." He added, " This happened after only 30 minutes of rain in the morning."
Officials from the weather bureau said along with the southwest monsoon, other weather systems had made the monsoon pulse even stronger along the entire Konkan coast.
"The off-shore trough (low pressure area that pulls moisture) has weakened, but still persists from south Gujarat to Kerala. Additionally, there is a mid-level circulation (weather depression) over south Gujarat. Both factors are pulling a lot of moisture from the Arabian Sea along the Konkan coastline," said Shubhangi Bhute, director, Regional Meteorological Centre, India Meteorological Department (IMD).
"Mumbai can expect heavy to very heavy rain till Friday."
Meanwhile, between 8.30am on Wednesday and 8.30am on Thursday, the Colaba weather station, representative of south Mumbai, recorded 66.8mm rain, while Santacruz, representative of the suburbs, recorded 39mm rain.
In a tragic incident, a girl was washed away in sea during high tide.
The girl, identified as Preeti Shrikrishna Pise, aged 17 years, was washed away yesterday when she was trying to touch the high rising splashes at Marine Drive and slipped into the sea.
Mumbai Police have denied reports that say she died while taking selfie during the high tide.
#1
#2
#3
#4
Comments
comments