10 Tempting Dishes to try out at Circuit Sandwich in Borivali West.
Street food of Mumbai is the food sold by Hawker trade hawkers from portable Market stalls in Mumbai. It is one of the characteristics of the city.The city is known for its distinctive street foods. Although street food is common all over India, street food in Mumbai is noted because people from all economic classes eat on the roadside almost round the clock and it is sometimes felt that the taste of street food is better than restaurants in the city.[3][4][5] Many Mumbaikars like a small snack on the road in the evening. People of Mumbai cut across barriers of class, religion, gender and ethnicity are passionate about street food. Street food vendors are credited by some for developing the city's food culture. Street food in Mumbai is relatively inexpensive as compared to restaurants and vendors tend to be clustered around crowded areas such as colleges and railway stations.
Mayonnaise cheese garlic bread consisting of Garlic bread with loads of cheese and veggies like capsicum, along with mayonnaise on top.
Address- Shop 8, Mangal Arambh Building, Borivali West.
Timings- 1.30-11.30 PM
Jamela Open Sandwich. Circuit Sandwich is ideal for a quick bite with many tempting dishes of offering. The average cost for two will be around 300 INR depending on the dishes you order.
Aao Mari Satthe, a mouth-watering variety of Open Sandwich. The names of the sandwiches are as unique as they can be right from Kem Cho, Jamela, to Golmal & many more. They even have a variety of Pizza, Salad, Masala papad, Alu/Jam/Chutney Slices etc
Golmal 3 at Circuit Sandwich. They also have Golmal 1 & Golmal 2. It's a type of Open Sandwich. Sab Golmal hai boss. 
Circuit sandwich Centre is famous for its sandwiches sort of refreshments. where I had tried few of the items with my cousin sister few months ago. It is quite good in taste with simple arrangements. Few varieties are there but that is enough to make it as one of the renowned sandwich centre of sandwiches. Specially kids have a good hang out here.
Sometimes they take it as a parcel for their school tiffin. It is a small centre with small sitting arrangements but still people love to be here because of its taste here.
Cheese Grilled Sandwich served with mouth-watering chutney & wafers to add to the crunchiness.
The classic Chilly Cheese Sandwich.
Delhi Darbar Sada Sandwich.
Vegetable Grilled Sandwich. They also have many other variants of the same. Circuit Sandwich is located opposite to Kora Kendra in Borivali West near Borivali station platform no. 8.
Sada Sandwich.
Chinese Bhel.
#1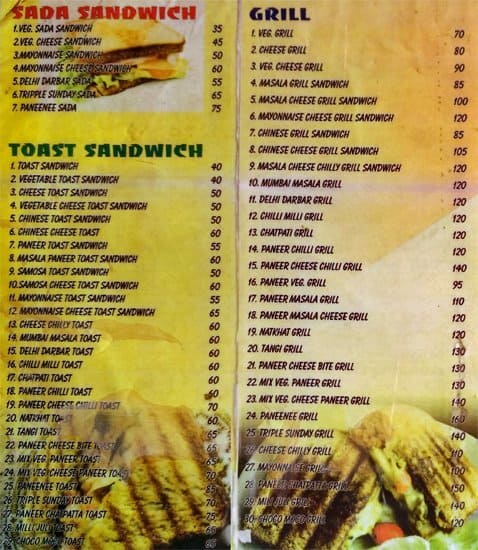 #2
#3
Shop No. 8, Borivali West, Mumbai – 400092 Get DirectionsLandmark: NEAR  McDonald's
Narendar
Monday – Sunday: –  (Lunch: 1 PM – 1.30 PM )  
Comments
comments